Many people are described as legends at sports clubs but when critically examined, don't quite fit the bill. However, Graham Rhodes fits the description perfectly and can truly be described as a legend at Erdington Rugby Football Club.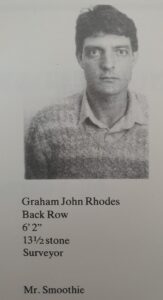 Graham John Rhodes first joined Erdington RFC in 1969 whilst he was still at Grammar School having appeared on the radar of another Erdington legend, Tom Rowlands. Tom had built the best Colts team (under 20) in the Birmingham area and Graham was duly recruited and fitted into the team immediately. He told me that from the first game, he was made welcome and enjoyed both the on and off field life.
He played back row for most of his career excelling at number 8 and both blind and (mainly) open side flanker and played at first team level for the vast majority of his long career at the Club.
Most opposition players found him to be quite irritating. Some because of his playing ability – many an opponent thought he was about to score when the irritating Graham Rhodes made a last-ditch tackle to stop him. Many teams thought the ball had been secured and made safe when suddenly, the irritating Graham Rhodes popped out of a maul with ball in hand to score another glorious try. He irritated every one of the teams he played against and for this reason, he was well known and respected (and still remembered) across the rugby clubs of the Midlands.
Most Erdington players found him to be quite irritating as well. How fair was it that Graham should have such great playing ability and versatility to play in any position? Why was it that when good looks and charm were given out, he was at the front of the queue? Why should Graham have such humility as to be willing to play for Erdington for any team at any level just because he loved the Club and the game of rugby in particular? Graham was a tall man with sharp pointy elbows and knees and he could irritate anyone nearby that came within range of them – this applied equally to his team mates as well as the opposition!
Graham was one of those irritating players who could get stuck into a ruck or maul where it hurts and yet emerge with his boyish good looks unaltered. He was not a vain man but occasionally, when his hair had been disturbed slightly in a particularly vicious maul, he would approach one of the backs to borrow a comb and straighten it before joining the scrum again.
It was also irritating to find that he had a great sense of humour and know that wherever he went, he was the life and soul of the party. Rugby football was definitely the game for Graham with the on-field seriousness tempered by the off-field silliness. There are many stories from tours of the past that created unforgettable memories which sadly must remain private (what goes on tour, stays on tour). But there are some which have passed into Erdington RFC folklore – such as the time when the team coach was travelling in the Cotswolds and found a sheep at the roadside. Concerned for its welfare, they took the sheep onto the bus and brought it back to the team hotel, much to the consternation of the management and guests. Soon after returning from tour, and before all the tour members had agreed the 'facts', Graham went away for two weeks on holiday only to return to a visit from a Police Officer who wanted a statement from him about an alleged sheep rustling incident that had been reported by a Cotswolds farmer. Graham started to explain matters as he recalled them only to be stopped by the Police Officer who politely explained that what he was saying was at variance from what everyone else had said. The Police Officer kindly told Graham what his teammates had said and then asked him if he agreed with that – which of course, he did!
Graham and I had dealings professionally as well (we were both Chartered Surveyors) as occasionally, our jobs would come together for one reason or another and I found it irritating that wherever we went professionally, Graham was well known and well liked. He had an extensive range of contacts and was well thought of and highly respected.
Sadly, Erdington RFC closed in 2004 but following his retirement, Graham joined a small band of brothers who reformed the Club. He used his extensive range of contacts to great effect and to his great delight, help raise the new Club from the ashes of the old. He was rewarded for his efforts when in 2019 he travelled to Japan together with Andy Trueman courtesy of Mitsubishi UK, as rugby club volunteers of the year, to watch the Rugby World Cup final. He was a great supporter of the England rugby team and watched them whenever he could – either live at Twickenham or on TV (usually at a local rugby club).
Graham was a one Club man – he played solely for Erdington and to this day probably remains as the longest serving player having played continuously for 5 decades – the Sixties through to the Noughties.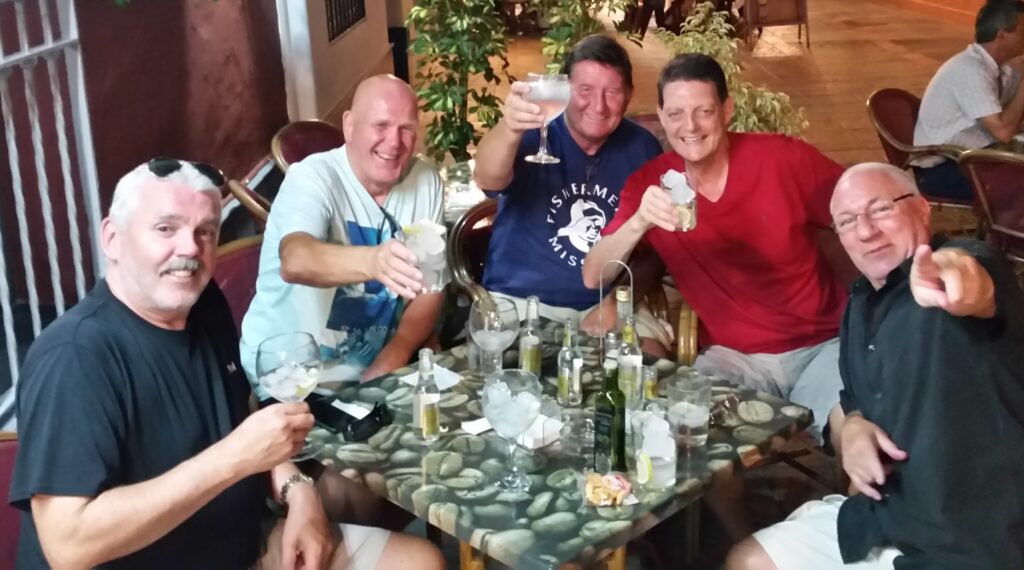 Over the last few years, as he experienced various health issues, a few of us 'old boys' would go away to Spain for a week during early September where we would while away the hours eating and drinking (a little) and remising about 'the good old days'. He was a great family man and was very proud of his two daughters, Gemma and Leanne and always talked of his delight of being a grandad. We would talk about past games, opponents, tours, fellow Club members and in particular, those who are no longer with us. It saddens me to think that we must now add Graham's name to that ever growing list.
As I have explained, Graham was a man who most of us found irritating but fortunately, for all the right reasons. Whilst many men can't really be properly described as a legend at a Club, I can state categorically that as far as Graham is concerned, the description Legend isn't sufficient. However, as we can't think of any other, better superlative, Graham John Rhodes – a Legend at Erdington RFC will have to suffice.
The game of rugby football in general and Erdington RFC in particular has lost a great servant and we have all lost a great friend – we will all miss him. We are thinking of Maggie, Gemma and Leanne and their families at this difficult time.
Derek Owen
Honorary Secretary
Graham's wife, Maggie Rhodes
I met Graham over 40 years ago, I knew he was special once I got to know him. He was laid back, calm and intelligent, he was the most dependable man you could wish to meet. Having a letdown father myself, I didn't realise such men existed.
We got married in 79 and had two girls. At first, I thought that rugby was a big distraction, and I might try to persuade him to give it up, to spend more time with the family.
After much consideration I decided that it was good to have a sport after all, it was his passion.
So, I let it be.
We had a great life together with our children, he was a wonderful father a huge rock to us all.
We were like chalk and cheese, I'm extrovert, gregarious and a go getter whereas Graham was reserved level-headed and a thinker, it worked.
This last year has been a roller coaster since Graham's cancer diagnosis which, hit us like a bolt out of the blue.
However, he put on a brave face and was really positive, often saying "it can be treated but not cured" that gave him hope, but the cancer was aggressive and wasn't going to go away with chemotherapy.
His memory will live on in our hearts everyday forever.
Rest in Peace my darling.
Graham's daughter, Gemma
My Dad was the most amazing man, the calm and stoic rock in our family and set such a high standard of what it meant to be loved. He made an impression on anyone who met him for even the briefest of periods, leading by example. He was a wonderful, gentle – an incredibly rare soul indeed. His family were his whole world, nothing was ever too much for trouble. My sister and I are the happiest and most secure girls because of the incredible security and love he provided. And I know that his example of parental love is what we will go on to show their own children. His light lives on in us all. We can only hope he passed on into the next realm when he was at peace with the timing and it will have brought him such joy to meet his new granddaughter baby Noa, and to share in the excitement of Leanne's engagement. He faced the challenges of his illness with grace, humility and acceptance. He was a young soul, an active and vivacious man, and clearly growing old was not in his plan. But he had a great and wonderful life, full of love and happiness, sport and cooking and he will be a part of our life always.
Graham's daughter Leanne
Gone forever, it doesn't seem real
Your battle with cancer, you no longer have to conceal
You never once complained with all the chemotherapy you had
You didn't want us to worry or ever be sad
Because you taught us life is for living and having fun every day
To smile and laugh come what may
You may have been seventy but you looked just fine
Getting better with age, just like a good wine
Most thought you'd dyed your hair and had a few face lift ops
But no, that was our good-looking natural pops
Relaxed and positive, you've always been our rock
And so good in the kitchen with your pans and your wok
Nothing was ever too much, you'd always go that extra mile
With a heart full of love and your wonderful smile
You had a passion for rugby; the longest serving Erdington player to date
And through your hard work and commitment, the club is doing great
Changing the lives of youngsters all over Brum
Reliving your enjoyment of the tackles and scrum
To your grandchildren Isabelle, Imogen, Felix and Noa; you've brought so much joy
With endless games, jokes and stories better than any toy
They adored their grandad, a playmate they will truly miss
But you have filled their hearts with happiness and bliss
A loving husband, grandad and father, you were the very best
So please dad go and be at rest
As you breathed your last breaths, you told us you were 'more than ok'
And now at peace, you finally lay
Today our hearts may be full of sorrow
But we will try to be joyful tomorrow
As we hold on to the wonderful memories of you
In our hearts your legacy will always live through