I played for Erdington Rugby Football Club (ERFC) from the age of 14 (and a bit) to 40 years of
age. During the years that ERFC was 'asleep', I coached with Old Salts and worked with
Greater Birmingham RFU till 2019.
I was invited to run a coaching session at Erin Go Bragh Holly Lane, ERFC's adopted ground
year 1. At 06:30 am the following morning the phone rang, it was that old warrior Andy 'Freddie'
Trueman. Freddie T hooked me in! I was again with the club that had given me so much. It was
time to give back all I can to the new ERFC, as a coach/volunteer as my playing years are far
behind me.
I am also a director of Changing Lives Through Rugby (CIC) formed in July 2019 and is
affiliated with ERFC, founded in 2017. This organisation was formed to promote the ethics of
rugby within the local communities and encourage engagement at all ages to build a community
rugby centre. With hard work from our ERFC volunteers and local schools, we have built a
strong base in our mini and junior's section. As a CIC (CLTR) we have reached out to work with
more schools, local communities and the West Midland Police (reduction of Knife crime) to
strengthen our partnerships. Our aims are simple. To provide free rugby to all kids below the
age of 18, no matter what their circumstances. To extend this into all areas of our local
communities (i.e. Through Kingstanding Rejuvenation Trust, Nechells trust). And work with our
partners to achieve their goals and further our desire to become a true Community rugby club
known as ERFC, based on Spring Lane Playing fields.
Our work is only 2 years old; we have a long way to go to provide the facilities for rugby/sports
and the local community and maintain our commitment to free rugby for all under the age of 18.
To use a phrase ''I believe rugby is a game for everyone, for life and can help change the
course of people lives for the better! I am a witness to that''.
The beginning.
''Note, Whilst there are names mentioned in the following passages, I want to say to those not
mentioned:- I am truly honoured to have played alongside you all, to have relationships still to
this day. I have not forgotten you, keep safe.''
I was introduced to ERFC by Alan Howes (Howzy) into the Tom Rowlands Colts. In those days
this was an open age group up to 20. Howzy and I had played for the school (Stockland Green
Bilateral) on the morning, under the watchful eyes of Peter Thompson (Teacher, Referee and a
lifelong friend), and sharing the field with the likes Duncan Rowlands, Rod Knapp, Eddie Allsop.
Then came the baptism, Broad Street away. The changing room introduction to the team by
Tom Rowlands was short and to the point, "Here's the new lad…" Taffy Evans was the first to
introduce himself and in true Taffy style immediately told me, ''don't let us down.'' No pressure
then! Graham Rhodes (Graff), Terry Brookes (the Bull), Paul O'Regan, 'Smokey' Smith, Joe
Betty to name but a few, to be honest, the Colts on that day were awesome, the rugby was
approximately 25 minutes of the game the rest of the time was ERFC beef confronting Coventry
aggression. We won on both counts!
I started as hooker (has to be said I think is the best position in the game) a mere teenager, by
the end of the game I had grown up and known that be a part of this squad I would need to raise
the bar. Over the years to follow we were guided by Tom Rowlands, so when told we were to
play for Don Reilly's 15, or the other senior squads, we knew it was to benefit our development
and help the ERFC squads. Tom Rowlands legacy to the club was the continual conveyor belt
of Colt players to all levels of the club.
During these first years, I made so many new friends across the club. The likes of the old guard,
Bill Husbands; Pete Lane; Don Reilly; Chris Hazelgrove; Colin Hillett; Alfie Glazebrook; Lenny
(the lip) Kniverton; Bobby Eager, his words of encouragement still stay with me to this day and
cant be repeated; Derek Owen (No pass Owen); Keith Robinson (Camel); Phil Roberts; Andy
Trueman (Freddie); Matt, Gary and Kevin Ellis; Gary, Karl, Rod and Gary Lee; Pat Nugent; Ian
Ellis; Dave Mullah; John and Kevin Perry; The Chairman-Larry Cahn; Stu Carpenter; Mark, Ken
and Dave (Dummy) Ellerman; Tom (Tucker) Owen; Joe (Ski Slope) Carr; John Breen; Paul
(Silky) Byrne; Trevor Brice; and The Eyles brothers, Paul and Gary; to name but a few.
Then came the Beaujolais years. The nickname came from the Brigg House Tour. We were in
an Indian restaurant, having ordered the curry I merely asked for the wine list and quipped
''have you anything better than Beaujolais''. After the leg-pulling (chiefly Howzy and Dummy), I
was given the name Beaujolais. That night we were given a police escort out of the restaurant to
our bus. It appears the local Saturday population fancied their chances of some physical
interaction, however for the safety of the locals, we were escorted back to our hotel on the
outskirts of town.
Two memories of games for me epitomised ERFC.
The Beaujolais annual game against the Woodies. An annual friendly made up mainly of ERFC
players, those from the Chelmsley wood area captained by Mazza and Mark Ellerman. The
Beaujolais' selected from those who had played for the side over the seasons. This was not for
the faint-hearted. The Woodies made up of the Ellerman's, O'Beirane's, Kevin/John Perry, John
Bostock, John Devane (JD) and Taffy Evans. In true ERFC style, when the whistle blows the
friendship goes out of the window, only to be resumed after the final whistle. In fact, during one
such game, I dislocated my thumb in my left hand on the chest of Mark Ellerman. Having had
put back in and had my hand taped, approximately 12 mins later I did the same to my
right…Yes, on the same player's chest…thanks, Mark…
The Telford game away.
When you wear the blue and white as Taffy once said, "Are you up for this?
Are you man enough?'' On this day this squad of Beaujolais's gave ex-first/second players a
lesson of their life. Their mistake was to look at this group of guys and dismiss them as a 4th
team rabble. I did not need to whip the guys up, Telford had done it for me. By the time the final
whistle had gone these prima donnas were dealt with and beaten. I can't remember all the guys
who played that day (due to old age), so forgive me if I missed you off this role-call, but to say I
am still so proud of you all – Martin Abbott (muscles); Mo and Del Smith; Papa(Mal Vale); Steve
(dad) Morris; Ski Slope; Growler; Bones; Wish Bone; Kev Perry; Rob Stokes; Chris O'Beirane;
Greg Pons.
John Teigh – Spotted dog ERA.
Being an ERFC player it was mandatory to frequent the Spotted Dog, Alcester Street, Digbeth.
It was also expected when called on that you accept selection for the Spotted Dog 15 games
organised by Mr Leigh. A complete social side (Port instead of oranges at half time), many of
who went on to play for ERFC; Graham; Dan Daley; Des and Brendan Kimmitt; Richard
Hodgson; Sean Teigh; Socks; Sean Quinn; Ian Clewitt; The Kelly twins, Tom and Jerry; and so
many more. Thanks, guys and girls, for laughter, comradeship and limitless songs and long
nights. Say hello to the president-Bernard Tinny and keep his urn safe and sparkling John.
Looking forward to seeing the Spotted Dog kit Launched again over the next 12months!
I thank everyone at the Spotted dog for accepting this unruly group of guys to be a part of the
Spotted Dog family, ERFC's second home.
The Family.
Over the years there have been so many games, players, family events, Oh yes, how could I
not mention 'the girlfriends, wives, kids', who came to the club weekly in all weathers and
were all a big part of the ERFC family. They made Erdington RFC a special place.
The new beginning.
I am proud to be a part of the new ERFC, seeing it grow over the last few years. In a short time,
we/YOU have succeeded in growing the Mini and Juniors from our local community.
New links, with Schools and the West Midlands Police, have been developed through Changing
Lives Through Rugby to bring new youth, some of whom may have strayed to peer pressure
postcode gangs. This has been achieved through in-school coaching and after school sessions
with both boys and girls, who are proud to be a part of ERFC.
A senior squad that has its new values, commitment and the same pride to wear the Blue and
white of ERFC.
One more thank you to every Volunteer throughout the club who's time is given freely. You are
special and I am proud to be associated with you all.
I dedicate the above to all those of ERFC family who have fallen and no longer with us. For us
that remain, you will never be forgotten by the ERFC family.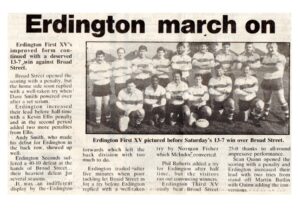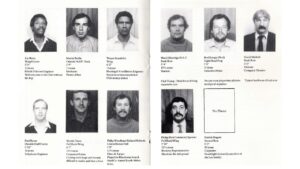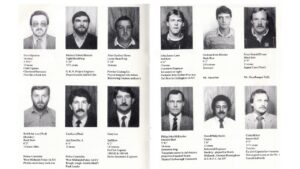 We're always keen to share the stories of our former players, from any generation. If you have a memory you'd like to share please get in contact with the club at [email protected].