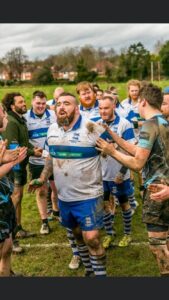 Why did you start playing rugby?
To stop my dad moaning at me to play. Turns out, it was probably the best thing he ever made me do.
How long have you played for ERFC?
3 years, but was there before the club folded back in the early 2000s
Why did you choose ERFC?
I had a lot of memories being around the Erdington club. When the club reformed, it was an inevitably. Like father like son!
Any pre-match routines/habits?
Get to the club, get changed, tape everything together that needs holding together, vas up (my ears) and let my hair down. That's when I become Erdington's Sebastian Chabal!
Best rugby memory?
Winning the merit league with Birmingham Wyvern.
That was a very special team and it was a near perfect season. Managed to bag myself 18 tries that season but still never managed to win top try scorer (cheers Colin).
As a forward, what's your opinion on the ERFC backs?
They're OK I suppose. They're just lucky I'm too fat to take my natural spot at inside centre back. In all seriousness, we have a super strong set of backs when they all show up!!!